Aktuelles
Gute Neuigkeiten
March 2021
Im März gibt es gleich zwei freudige Neuerungen:
Zum einen wurde das erste Kooperative Paper vom Westdrive Team zum Thema "Westdrive X LoopAR: An Open-Access Virtual Reality Project in Unity for Evaluating User Interaction Methods during Takeover Requests" im Sensors Magazin für das Jahr 2021 veröffentlicht! Das Paper könnt Ihr euchhier durchlesen!
Zum anderen wurde das Deutsche Museum für ein paar Tage mit harten Corona-Auflagen geöffnet und wir konnten die ersten 150 Datensätze aufzeichnen! Dank steigender Zahlen wurde das Museum im April dann aber wieder vorrübergehend geschlossen. Einen Beitrag zur Künstlichen Intelligenz Ausstellung könnt ihr in dem Video finden. Falls Ihr es euch selber mal ansehen wollt, könnt ihr das Museum hier finden.
EEDA heads to Bonn
January 2021
EEDA heads together with our simulator to the German Museum in Bonn for a special AI exhibition. As soon as Corona allows it, every visitor can participate in the new experiment. Also the TV was present at the setup and broadcasted on regional TV.
An Extraordinary Year
December 2020
We would like to thank everyone who made this great year possible. Thank you for the many exciting projects we were able to participate in. Here's to the next year being just the same!
UKick Off EEDA
November 2020
Our toolkit enables a new project: Ethical-Evalution-of-Driving-Actions (EEDA). Here, the LoopAR experiment was extended, so that two parties are always present during dangerous situations (e.g. a deer crossing the road and a car coming towards you). This creates ethical dilemmas that the driver has to deal with in short time.
Further Measurements in the Lab: More than 150 Participants!
October 2020
Thanks to a clever hygiene concept of our working group we are allowed to measure again in our laboratory at the University of Osnabrück! In total we can survey 187 subjects and are proud of this number.
Jobmesse Osnabrück
October 2020
Next destination Osnabrück. Dismantling and setting up our simulator may be a lot of work, but we are rewarded by plenty of data and many astonished eyes.
First Jobmesse Emsland
September 2020
Our first destination Emsland. Together with our simulator, our beautiful display walls and an additional VR gaming area, we are on our way. We are looking forward to measure as many test subjects as possible despite Corona.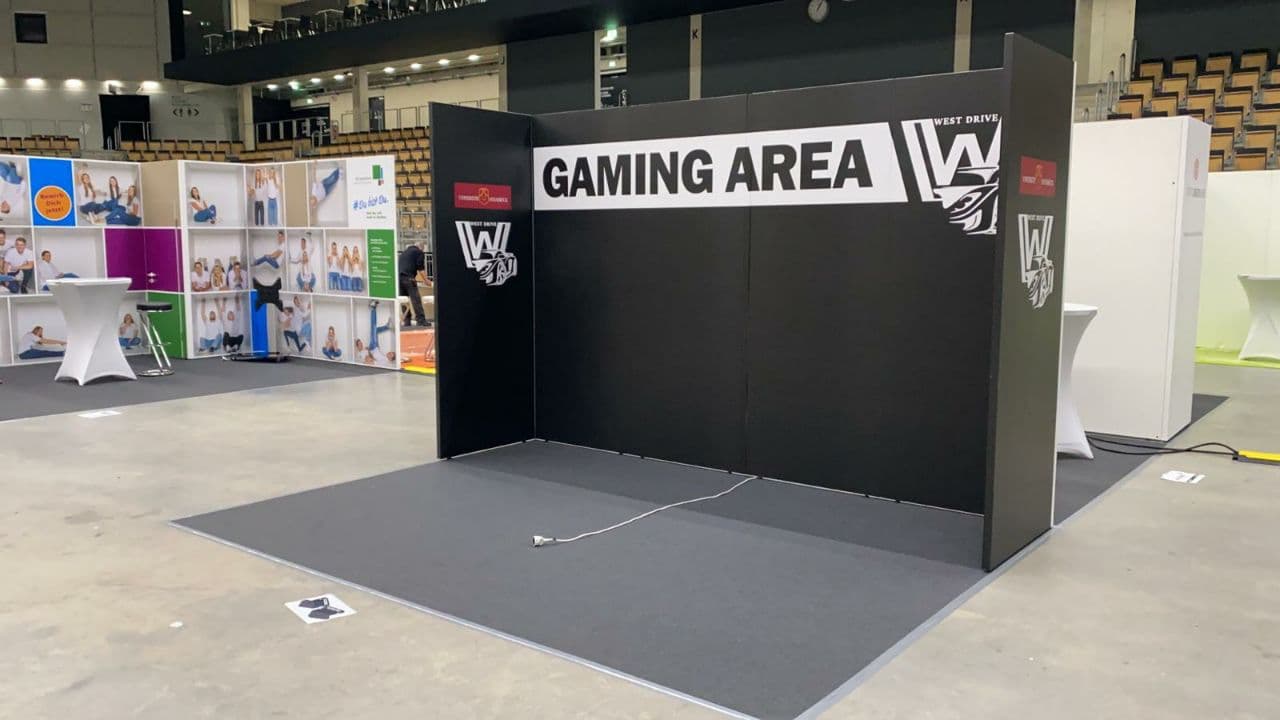 Finalization of LoopAR
October 2020
Since the beginning of the year we have been working on a continuation of the Westdrive toolkit. We use the additional functionalities of the LoopAR project to extend our open access toolkit. Here we want to use the virtual environment to test autonomous driving in combination with a head-over-display (HUD) and machine learning. For this we have developed different scenarios with different requirements for the driver in VR. The goal is to put the non-active driver in dangerous situations that the autonomous vehicle itself cannot handle, to get him back into the "loop" so that he can handle the situation appropriately. the situation appropriately.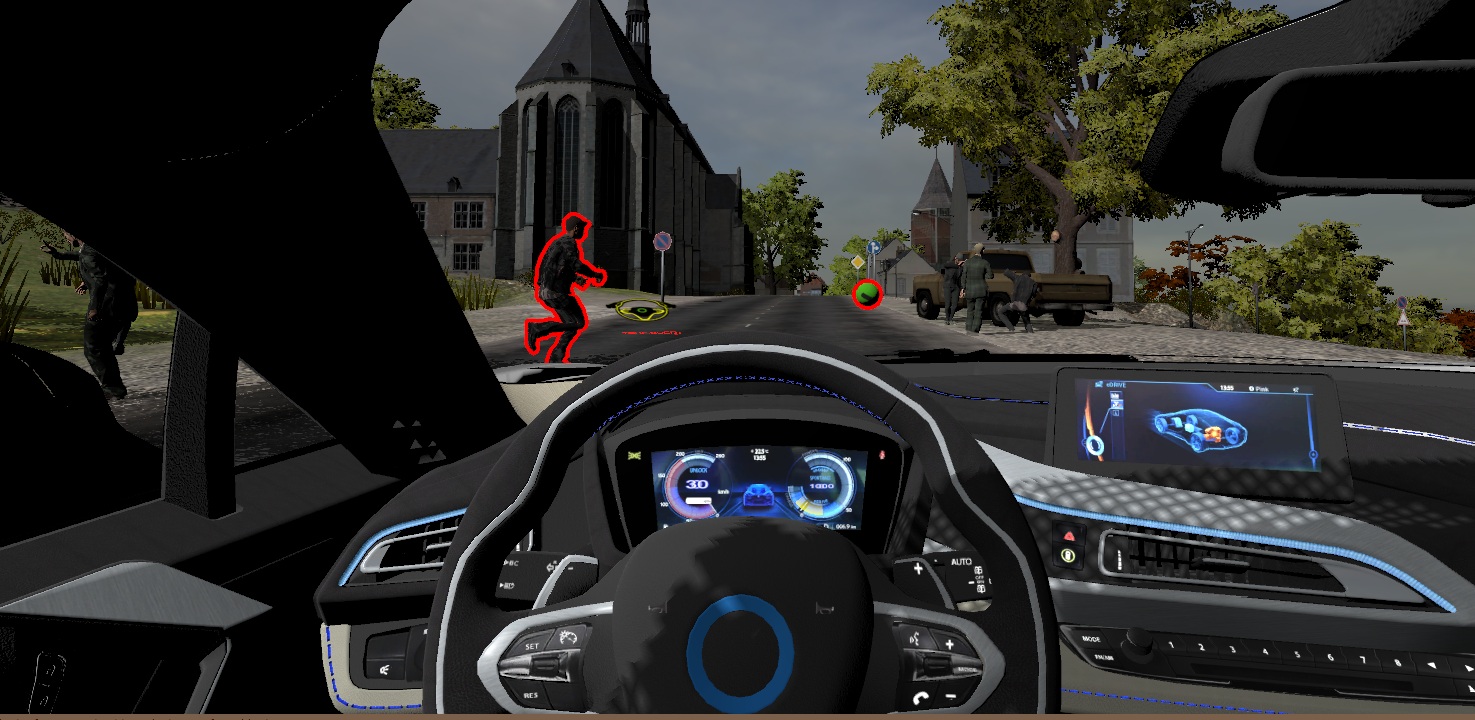 The head-over display supports the transition from autonomous driving to manual driving with symbols, projected onto the windshield: a warning triangle is displayed as soon as the driver needs to take control and potential hazards are highlighted in red. In addition, insistent warning sounds are emitted. Detailed information about the Westdrive LoopAR project can be found in this Preprint Paper. this Preprint Paper.
Canceled Gamescome. New Plan Job Fairs
July 2020
Originally, our plan was to exhibit our new experiment at Gamescom. Unfortunately, this is cancelled due to Corona and we have to think of something new. The solution: regional job fairs of Barlag GmbH!
Completion MVP Westdrive LoopAR
May 2020
Our new project Westdrive LoopAR reaches a milestone. A minimal viable product (MVP) has been completed. All functionalities are running and data could be collected. While it is still ugly as night, if we make it this far, we will definitely be ready by August. With the temperatures the mood rises immensely.
Lockdown and Home Office
March 2020
Corona hits us too and we go in home office indefinitely with a fat deadline for a big new project in September...
Visit from Minister President Stephan Weil
February 2020
Even the Minister President Stephan Weil shows interest in our research of our institute and visits us personally on his Lower Saxony trip. It is also possible to present our research to the Minister of Finance of Lower Saxony in an AI event.
Dismantling BMBF
January 2020
Our time at the BMBF is coming to an end and we are taking our simulator back to the University of Osnabrück. Thanks again for this great opportunity, but now it's off to our big VR lab, where a project is already waiting.
Publication Frontiers Paper Motorcity
January 2020
The first paper of the working group: A foundation for further VR research as a toolkit. This is published in Frontiers ICT Virtual Environments. It can be found at this link.
First Planning new Project/ the Team is getting bigger
December 2019
We are planning our next big project. For this we are getting new reinforcements. Lea Kühne, Frederik Nienhaus and Lynn Keller want to write their final theses in our project and give us a hand.
Dismantling MS Wissenschaft + Closing Party
October 2019
The time on the MS Wissenschaft is over. We have achieved more than we could have dreamed of and this is also celebrated in the team. A big thank you to all involved. The heap of data will keep us busy for a long time.
20.000 Participants!
September 2019
During the last months 20,000 subjects were cracked on MS Wissenschaft. This number is incredible and we are proud of the work of our team and the great pilots of the MS Wissenschaft
Presentation at the Ideen Expo 2019
July 2019
The Ideen Expo is going into its seventh round and thanks to the Stiftung Stahlwerk we are part of it. This year it takes place from 15.06 to 23.06 at the fairgrounds in Hannover. In an interview on the big stage, we explain our research (albeit with stage fright).
Setup BMBF
July 2019
Westdrive Motor City will be an exhibit at the Bundesministerium für Bildung und Forschung (BMBF)! For this occasion we built a wooden car to serve as a simulator. The construction was stressful, but after several hours our car is ready for presentation and testing. Here the simulator will over half a year collect data from test subjects to validate our MSW data.
Start of VR and Platooning
June 2019
Together with Nicolai Krüger we start a research project on Robot Recognizability as a project of Neuroinformatics and Business Informatics within the scope of the profile line 1 (Digital Society) of the University of Osnabrück. The aim is to investigate the acceptance of Platooning (semi-autonomously driving trucks as a convoy) vehicles in virtual interactions will be tested. Supervision: Prof. Gordon Pipa, Prof. Teuteberg, project: Maximilian Wächter, Anke Haas, Nicolai Krüger and Farbod Nezami. Anke Haas has uploaded her project to GitHub, which can be found at this Link. To get access, feel free to email ankhaas@uos.de.
Setup MS Wissenschaft
May 2019
Our business trip to Berlin starts. Here we will show our experiment in Motor City for the first time. The exhibit is on the 110 meter long ship MS Jenny for 6 months. Here we will try to collect data from as many Test subjects possible collect. Here is the guide to the MS Science Tour.
Large Team Addition for the MS Wissenschaft
March 2019
In order to prepare not only the experiment, but also the teaching content for the exhibit, our team has expanded significantly. Besides Gabriela Pipa (coordinator of the Research Training Group Computational Cognition) we are now supported by Philipp Spaniol, Sumin Kim, Max Pingel, Deniz Gün, Thomas Klein, Hristofor Lukanov, Marc Vidal De Palol.
Westdrive Motorcity Closing
February 2019
We have finally made it! The experiment is ready and we will be able to show a fully automated experiment to the visitors of the MS Wissenschaft. There will be 3 different conditions in which subjects will be able to experience different human-machine interactions.
We are going to the MS Wissenschaft as Exhibitors!
January 2019
This year's MS Wissenschaft will have the subject of artificial intelligence and we will be part of it! The ship will travel through 31 cities in Germany and Austria and will be traveling on rivers from May to October. More information can be found on the MS Wissenschaft webpage here. We are very ambitiously planning to saw an old car halfway through and have the experiment take place in the passenger compartment. Will it work?
Max and Farbod start their PhD with the Westdrive Project.
December 2018
The research project at IKW starts as part of the Neurobiology and Neuroinformatics with Peter König and Gordon Pipa as supervisors. The VR Lab of Neuroinformatics in the Wachsbleiche will be our new home starting next year. The goal of the research project will be to develop communication strategies in human-machine interaction that increase the acceptance of self-driving vehicles. What is new here is that the experiments will take place in virtual reality in order to do without expensive simulators or even car models and to evaluate psycho-physiological data, such as eye/head movement.